Tutoring Platforms
Acclaim Academic Institute specializes in private and small group tutoring offered in a variety of platforms and locations to best suit your needs and preferences.
Online Tutoring
In addition to video calling, we have a full suite of digital learning tools to maximize your online experience.
Tutoring Centers
Our office locations feature multiple rooms equipped with whiteboards and educational materials fit for private or group lessons.
In-Home
If you prefer learning in the comfort of your own home, we have tutors who will come to you for lessons.
Subject to availability near our SoCal offices
Contact us
K-12th Academic Tutoring
Homework Help
English reading and writing
Social sciences
Foreign languages
Common Core Math
Geometry
Algebra and Trigonometry
Calculus
Biology
Chemistry
Physics
And more!
Standardized Tests
College Admissions
Taking the SAT or ACT is essential for admission to top universities while scoring well on the NMSQT opens opportunities for tuition scholarships!
SAT Subject
Math Level 1
Math Level 2
Biology E/M
Chemistry
Physics
US History
World History
English Literature
Spanish with Listening
French with Listening
German with Listening
Italian
Korean with Listening
Chinese with Listening
Japanese with Listening
Advanced Placement (AP) Tests
History and Social Sciences
Comparative Government and Politics
European History
Human Geography
Macroeconomics
Microeconomics
Psychology
US Government and Politics
US History
World History: Modern
English
English Language & Composition
English Literature & Composition
Math & Computer Science
Calculus AB
Calculus BC
Statistics
Computer Science A
Computer Science Principles
Sciences
Biology
Chemistry
Environmental Science
Physics 1: Algebra-Based
Physics 2: Algebra-Based
Physics C: Electricity and Magnetism
Physics C: Mechanics
World Languages & Cultures
Spanish Language and Culture
Spanish Literature and Culture
French Language and Culture
German Language and Culture
Italian Language and Culture
Chinese Language and Culture
Japanese Language and Culture
Arts
2-D Art and Design
3-D Art and Design
Art History
Drawing
Music Theory
High School Admissions
ISEE (Independent School Entrance Exam)
SSAT (Secondary School Admission Test)
Oxford Academy (Cypress, CA)
Troy High School (Fullerton, CA)
Whitney High School (Cerritos, CA)
Post-Secondary Education
GRE (Graduate Record Examinations)
GMAT (Graduate Management Admission Test)
LSAT (Law School Admission Test)
MCAT (Medical College Admission Test)
Languages
Foreign Languages
Learning various languages will help you become a more worldly, knowledgeable person. Our foreign language courses can help you hone your communicating abilities and improve in your school's language classes. Even if you do not intend to take a standardized test and just want to learn a new language, we offer foreign language tutoring for Spanish, French, German, Italian, Korean, Chinese, and Japanese.
English as a Second Language (ESL)
We offer services which introduce students to English as a second language at any age and level. We aim to teach at each student's individualized pace with the ultimate goal of amplifying their English-speaking abilities to fluency. Additionally, if you are an international student looking to study abroad, we can help elevate your language proficiency to pass the TOEFL.
Reading Club
Our tutors will read classical literature with you to enhance your reading abilities. Throughout the lessons, you will be able to grasp complicated literary concepts and dissect plots and themes. Through this, you will not only gain grammatical skills, but also think critically by considering themes and symbols to fully comprehend an author's intentions in formulating a text. Continuous exposure to high-level reading will strengthen your analytical skills in all facets of life, understand different cultural and historical backgrounds, and help you form your own ideologies.
Click on the "Learn more" button to find out more about this program and browse our complete collection of literature available for all ages K–12!
Learn more
Current Events
Want to be up to date with everything that's going on? This course's readings change dynamically each week to consume the latest news happenings in the nation. In small groups of 1-4, students from grades 5-12 will meet with their tutor to have deep analytical discussions about recent topics, which will develop research and critical-thinking skills.
Click on the "Learn more" button to get more details about the class itself, along with examples of the content students will see when enrolling in this class.
Learn more
College Consulting
Applying to college is hard. Students frequently ask questions such as "What tests should I take?", "Where should I apply to?", and "What major do I choose"? Our college consulting services will confidently guide you through this complex process by creating a personally customized plan for each student, including:
---
College test preparation
Recommendation support
Extracurricular activities planning
Admissions assistance
Interview preparation
---
With our expert staff, Acclaim has carefully led countless young students onto the path for admittance to the most outstanding universities throughout the United States. We have a 100% college acceptance rate for our students under our guidance, admitting them into colleges such as Stanford, UPenn, and UC Berkeley.
Learn to Code
In an age of technology, there is a rapidly increasing demand for strong software developers as a profession. Furthermore, we have noticed that bright, young minds are starting to learn to code at an earlier age. We want to ensure that everyone can get the exposure to programming when they need it, so we have a set of programming courses curated to give you the knowledge and experience you need.
Getting Started with Scratch
Elementary school-aged students can become familiar with programming logic through the use of Scratch, a world-renowned project developed by the MIT Media Lab. In this course, students will learn visual-based programming to create interactive stories, games, and animations.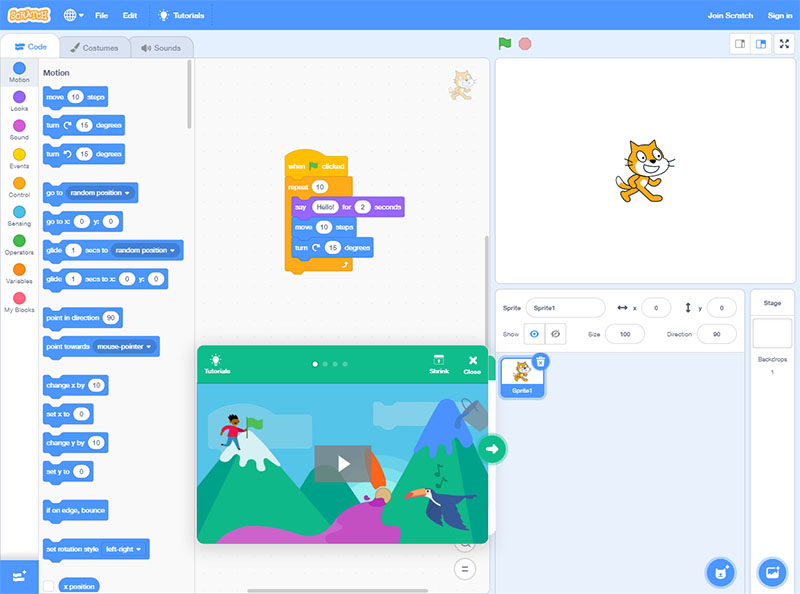 Introduction to Programming
Young adolescents can start off with this introductory class where they will learn the basics of programming. In this class, students will become comfortable with the programming language Python and cover topics such as loops, arrays, modules, and object-oriented programming (OOP).
At Acclaim, we believe that providing you with the proper learning tools is essential. As such, we have developed an online tool that allows you to collaborate with a private tutor in a live coding session, where you can make changes and run them in real-time.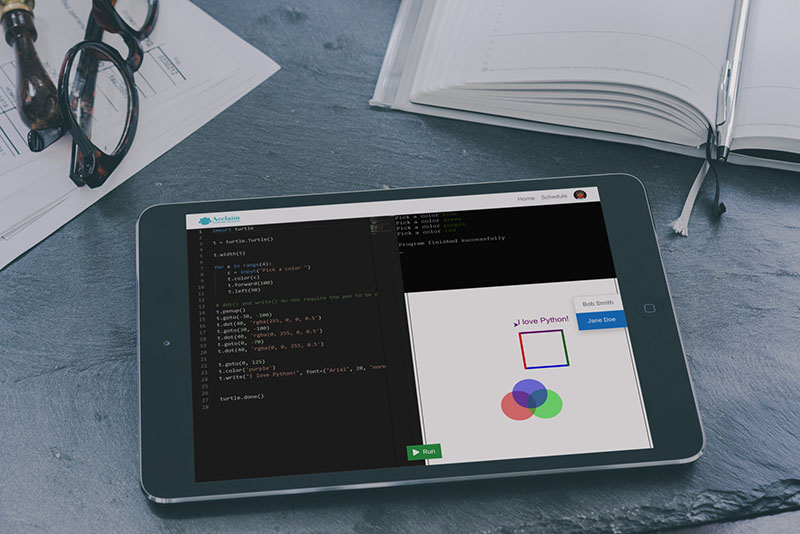 Intermediate Programming
Younger students who successfully complete the Introduction to Programming course or high school students with a strong math background will find this level engaging. Intermediate Programming will cover all the basics of programming in Java, while introducing additional topics such as sorting / searching algorithms, recursion, and inheritance.
Additionally, a successful completion of this course will thoroughly prepare students for AP Computer Science.